It is Asia's premier beach resort, and caters with equal appeal to families, couples and single visitors.
Pattaya is 147 kilometers southeast of Bangkok, and faces the Thai Gulf. Pattaya's relaxing tropical ambience is synonymous with every ingredient for memorable holidays. Accommodation ranges from luxuriously appointed backside hotels with superb convention facilities to simple guesthouses. Sporting opportunities abound both on land and water, and include some of thefinest golfing, game fishing, and scuba-diving anywhere in Asia. Theme and amusement parks, offbeat museums and lush botanical gardens offer numerous forms of leisure activities and cultural entertainment for all family members. And after dark, Pattaya offers all the allure and magic of a truly vibrant nightlife with a spectacular variety of restaurants, night clubs, bars, discotheques, cocktail lounges and cabarets. Pattaya can be brash, bold, beautiful and bucolic, and offers everything and authentic international beach resort
Location & Transportation
Pattaya is located just 150 km southeast of Bangkok along the eastern coast of the Gulf of Siam. It shares the coast with traditional fishing villages and other seaside towns such as Bang Saen and Rayong.

It takes only 1.5 hours to drive by car from Bangkok via the modern Moterway and from Suvarnabhumi International Airport.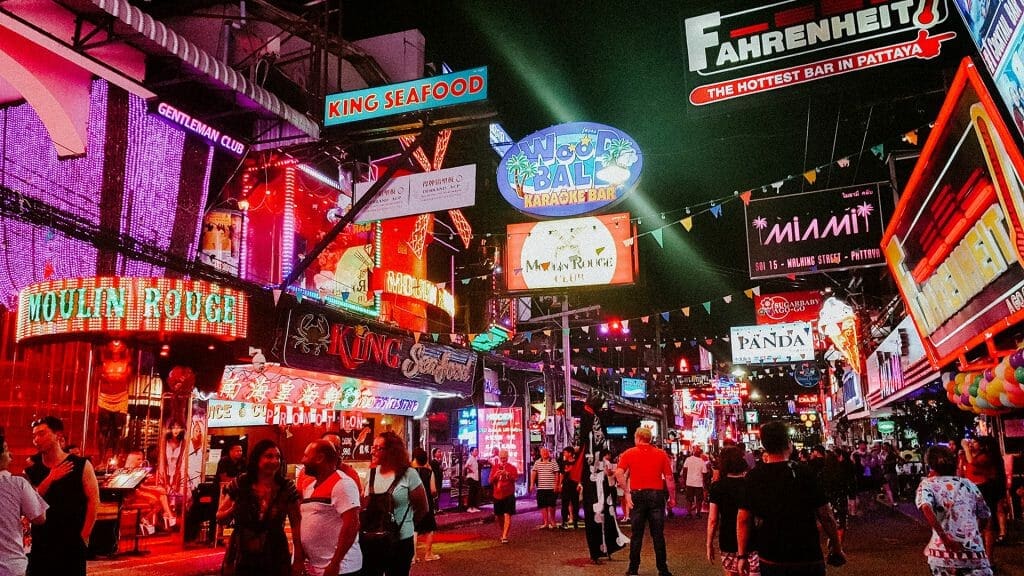 By car
Pattaya can be reached in a 2.5-hour drive along Bangna-Trat Highway via Bang Pakong, Chon Buri and Si Racha. However, visitors can avoid Chon Buri by opting for Highway 36, the new Chon Buri – Pattaya – Rayong route or taking the motorway from Rama 9 Road.
By bus
Air-conditioned and regular buses depart from the Eastern Bus Terminal (Ekkamai) and Bangkok's Northern Bus Terminal (Mochit 2 Bus Terminal) on Kamphaengphet Road daily. Buses (air-con) depart the Eastern Bus Terminal every 30 minutes from 5 a.m. to 10 p.m. and from Mochit II (Northern Bus Terminal) from 5.00 a.m. to 7 p.m.
Departure times and fares may be obtained from the Eastern Bus Terminal, tel. 0 2391 2504, 0 2391 8097 or the Northern Bus Terminal, tel. 0 2936 2852-66.
There are also minibuses that travel directly from Bangkok Airport to Pattaya at 9.00 a.m., 12.00 p.m. and 7.00 p.m. daily. For more information, contact the Bangkok International Airport, tel. 0 2535 1111.
In addition, most hotels in Bangkok provide bus services to Pattaya. Contact the tour desk at your hotel for details.
By train
The State Railway of Thailand offers a daily train service departing Bangkok's Hua Lamphong Station at 06.55 a.m., tel. 0 2621 8701. It takes about 5 hours to reach a station located near the Siam Country Club.
By Air
Bangkok Airways provides daily flights connecting Ko Samui and U-Taphao Airport. (Approximately 30 kilometers south of Pattaya).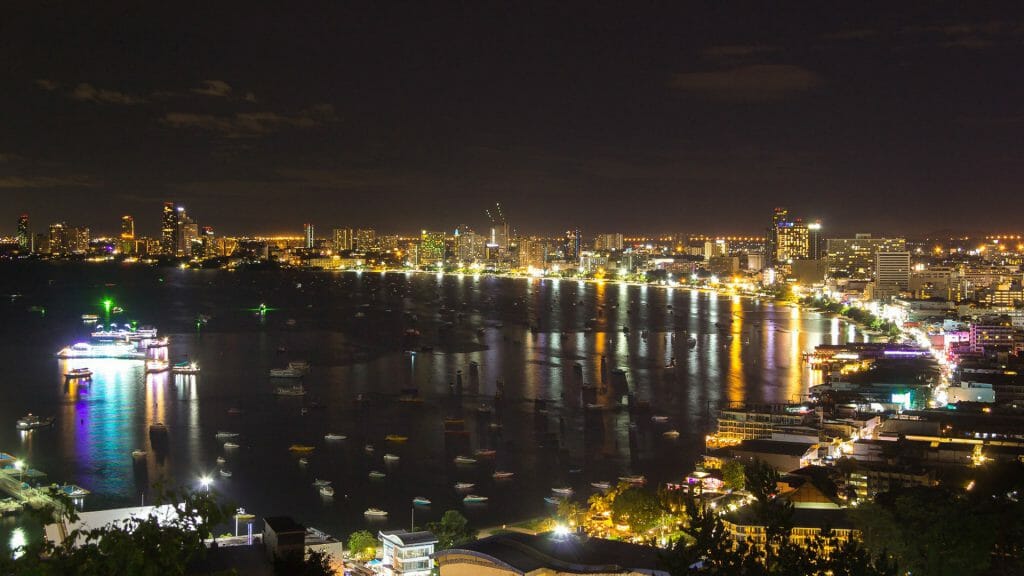 Pattaya City is divided into four major zones: North Pattaya, Central Pattaya, South Pattaya and Chomthian. It should be noted that there is a small mountain known as the Hill, located between South Pattaya and Chomthian. For a visual illustration take a look at the Map of Pattaya and Chomthian with the Hill.
Motorbikes are the most popular mode of transport in Pattaya. However, transportation in the city is facilitated through the use of special cars (song taew), customized pickup trucks with passenger seats in a covered overhead back cabin. These pickups, known as Bahts-Bus, can easily carry 8-10 passengers in the back, plus 1 or 2 passengers in front. They circle around the city and are allowed to stop anywhere. In addition to motorbike-taxis, the Bahts-Buses are the only form of public transport permitted in Pattaya. If not occupied, they also can be hired as private taxis. In fact, they are private vehicles in most cases belonging to the drivers. There are so many of them that they end up looking for passengers.
This compact city consists of 3 major roads that parallel each other. Right along the beach is Beach Rd., which is a one-way road from the north to south that is a few kilometers long. Second Rd. is a hundred or so meters away and carries city transport mainly from the south to north, although it is partly a two-way road. The last road is Sukhumvit Rd, a continuation of the highway leading to Bangkok. Many small streets called Soi(s) cross the roads. And it's advisable to walk some of the small streets, which are enumerated from north to south, although some have names. Second Rd. continues on to South Pattaya and turns to Chomthian reaching Chomthian beach within 5 minutes, and continues alongside Chomthian beach, which is approximately 20 kilometers long with some secluded escapes.
Chomthian Beach Rd., which is a two-way road, also parallels Sukhumvit Rd and is the only road in the Chomthian area, except for some connecting streets. On the other side of Sukhumvit road are several country clubs, golf courses and typical Thai rural villages, providing charming escapes on the banks of sweet-water lakes and small streams in the leisurely and relaxing countryside.
Many kinds of motorbikes, convertible monster Jeeps, sport and passenger cars are offered for rent. A driver's license is REQUIRED for driving around Pattaya and vicinity. It should be noted that in Thailand drivers drive on the left lane, as in England and Japan